Gasthof Schütte
A LANE MORE PERSONAL
This 4-star-superior hotel has probably one of the longest host traditions in the Sauerland; the family history goes back to the year 1460. The house is located in the middle of the beautiful half-timbered village of Oberkirchen and has been repeatedly expanded and extended over the years. Nevertheless, it breathes history, not least through the rustic guest room and the low ceilings in the so-called main house. The Schütte family has been welcoming you as hosts since 1879. The rooms and suites at the Landhotel Schütte all have special furnishings and are very individually tailored.
Wellness
In search of relaxing hours, soothing treatments and pure well-being. The elegant bathing and sauna area at Gasthof Schütte gives you just that. Come and relax in the "Lenneborn source of strength", treat yourself to nourishing cosmetics and vitalising massages. In summer, you can relax in the large hotel garden with its outdoor pool, stream and light shade under the leafy canopy.
Gastronomy
The very good cuisine of the house is mentioned in numerous restaurant guides. You will be served seasonal, traditional and regional dishes. You will be taken care of by the very attentive team in the restaurant. During the summer months, the beautiful beer garden under the chestnut tree has a special attraction.
Photos: © Sterne im Sauerland - Gasthof Schütte
The hotel at a glance
A whole list of good reasons to stay with the stars in the Sauerland:
Family run inn since 1832

60 rooms with 100 beds

Indoor swimming pool and sauna area

Outdoor pool and children's playground in a spacious hotel park

Wellness and beauty offers

Holiday region Schmallenberger Sauerland

Traditional host passion in the 19th generation

Guided adventure hikes with the host family

Holiday flat "Alte Stickerei

Holiday home "Birch Cottage

27-hole golf course in Winkhausen (3 km from the hotel)
Opening hours hotel - closed from 26.11. to 26.12.2023

Check In from 15.00

Check Out until 11.00 a.m.

Breakfast from 07.30 to 11.00 a.m.

Dinner half board - take your seat between 18.30 and 19.30

Opening hours à la carte restaurant Monday to Sunday from 12.00 to 17.00 (Vesper menu) and Monday to Friday from 18.00 and on Saturdays, Sundays and public holidays from 18.30 to 20.30 (evening menu); on Saturdays, Sundays and public holidays also from 12.00 to 13.30 lunch menu.

Dogs welcome at Lennehaus on request

Train station shuttle service available on request

Free parking at the hotel

Bicycle rental (e-bikes) free of charge
Our offers for you
Get to know our packages or book your very own individual stay: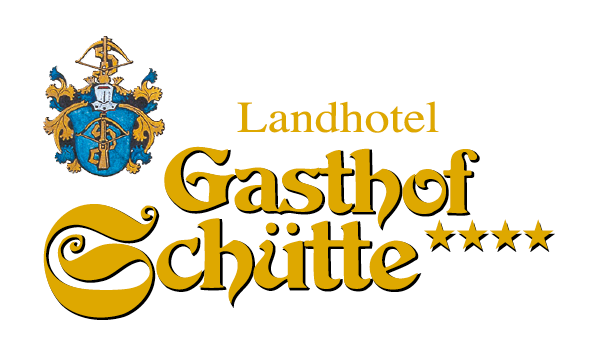 Landhotel Gasthof Schütte | Eggeweg 2 | D - 57392 Schmallenberg
info@gasthof-schuette.de | +49 (0)2975 / 820