Holiday in the Sauerland
MAKES HAPPY
It is what it is - the Sauerland feeling. Sauerland, that's the people, the nature and the landscape. It's culture and delicacies, sometimes only recognisable at second glance. The Sauerland feeling is like coming home, like being at home for a while, like being on holiday with friends.
Colourful foxglove near Latrop - © Schmallenberger Sauerland - Klaus Peter Kappest
The Sauerland
PRISTINE, ROUGH, MOUNTAINOUS AND WOODED - YET SO LOVELY AND WORTH DISCOVERING
What is the best way to describe the Sauerland? Quite apart from the fact that you should make up your own mind, let's try a few Sauerland keywords:
The landscape is characterised by diversity. Wooded mountain ranges and hilltops, glittering lakes, wide valleys with all the green shades of nature. The Sauerland has many faces.
The forest is a constant companion here. Discover the tranquillity and mystique of these large, contiguous forest areas. From wide-ranging discovery tours to relaxed circular routes, the Sauerland forests offer you a recreational experience.
Small, tranquil villages lie nestled in the landscape like little pearls. Their inhabitants are proud of spotlessly clean half-timbered houses and intact village communities.
It is called the"Land of 1,000 Mountains". As the north-eastern part of the Rhenish Slate Mountains with a total of over 2,700 elevations above 400 m, it lives up to its name. The highest elevation is the Kahle Asten near Winterberg at 841.9 m above sea level.
Natural treasures are everywhere here. The "Sauerland Rothaargebirge Nature Park" protects them and brings together rare insects, imposing bison or fast peregrine falcons in these wooded and water-rich areas.

Collecting pine cones | © Sterne im Sauerland - Jagdhaus Wiese
Culture
The Sauerland is characterised by a lively art and culture scene. It is not limited to customs, but also offers themes worth discovering. Europe's largest international brass festival, for example, or works of art by renowned artists in the middle of nature, a fascinating museum landscape, and numerous galleries and arts and crafts businesses.
Worth seeing gems such as Romanesque churches with paintings of international significance, concerts by local and national artists and festival highlights in a class of their own make the hearts of culture lovers beat faster.
It is a delightful contrast of offerings to discover.
EARTHING - WITHIN REACH
THE SAUERLAND IS AN ISLAND...
... for those seeking peace and quiet. In the middle of Germany, less than two hours by car from the conurbations on the Ruhr, Rhine and Main, lies the destination of your search for deceleration. Your island of relaxation. Your haven of peace. A place you will want to return to again and again to recharge your batteries. Grounding - within reach.

Water - refreshing during a hike | © Sterne im Sauerland
WORTH SEEING
EXPERIENCES AND ENJOYMENT AROUND THE STARS IN SAUERLAND
Of course we have favourite destinations in our home country. Here we would like to recommend some of them to you. And if you don't find the right place for your interests, please don't hesitate to contact us. Because we know where the most interesting events are taking place, where trendy exhibitions are opening, where sporting destinations can be found or where special culinary delights are on offer.
In addition, our local tourism experts have prepared all the things worth knowing for you.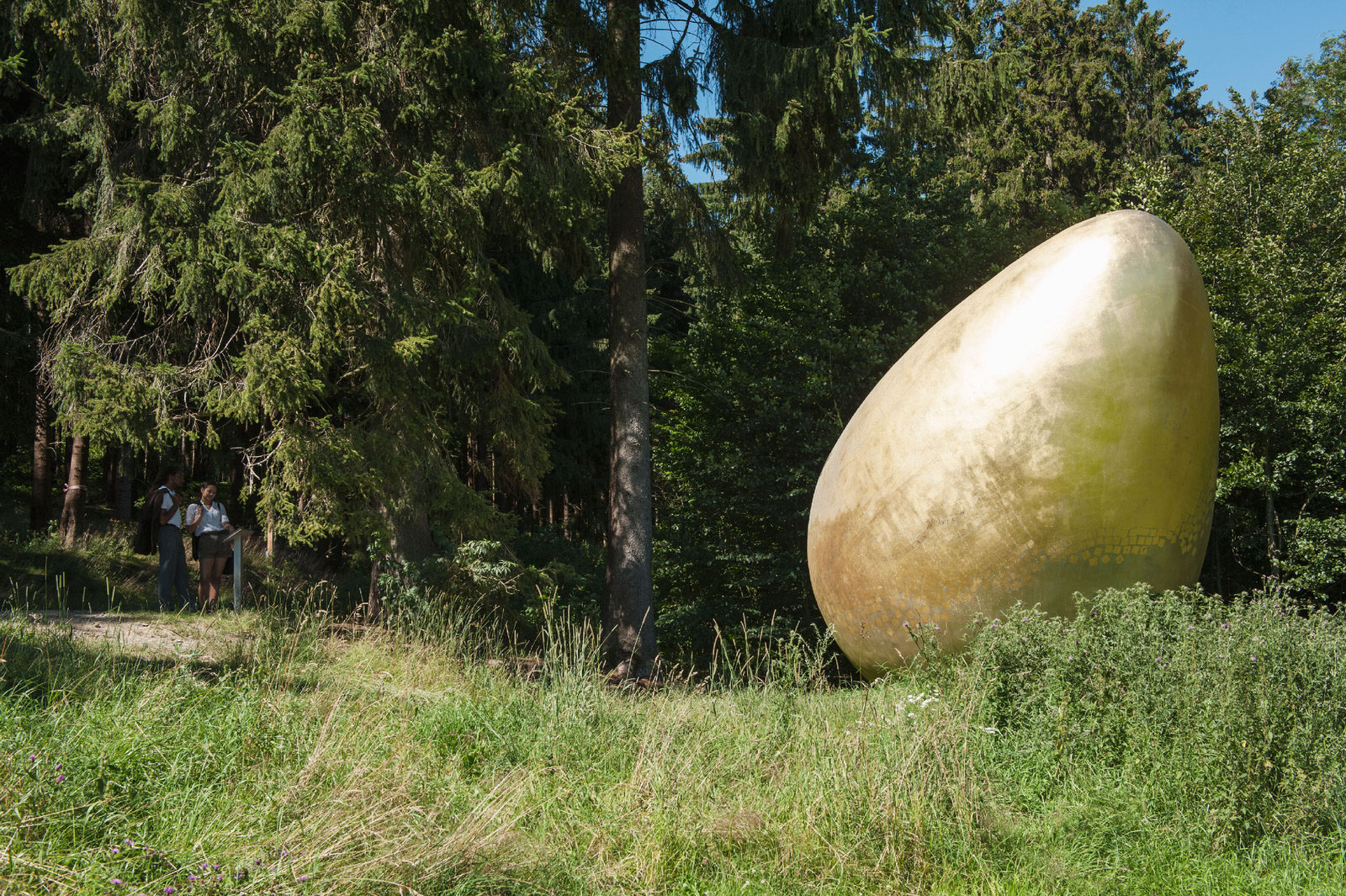 Forest Sculpture Trail Golden Egg | © Schmallenberg Tourism