Cycling
Cycling and mountain biking in the
Land of a Thousand Mountains
What sounds contradictory at first turns out to be pure recreational pleasure on closer inspection. What would the downhill breeze be without the challenging climb beforehand? Whether you cycle relaxed with the whole family or love the thrill of downhill - you won't find more cycling fun anywhere.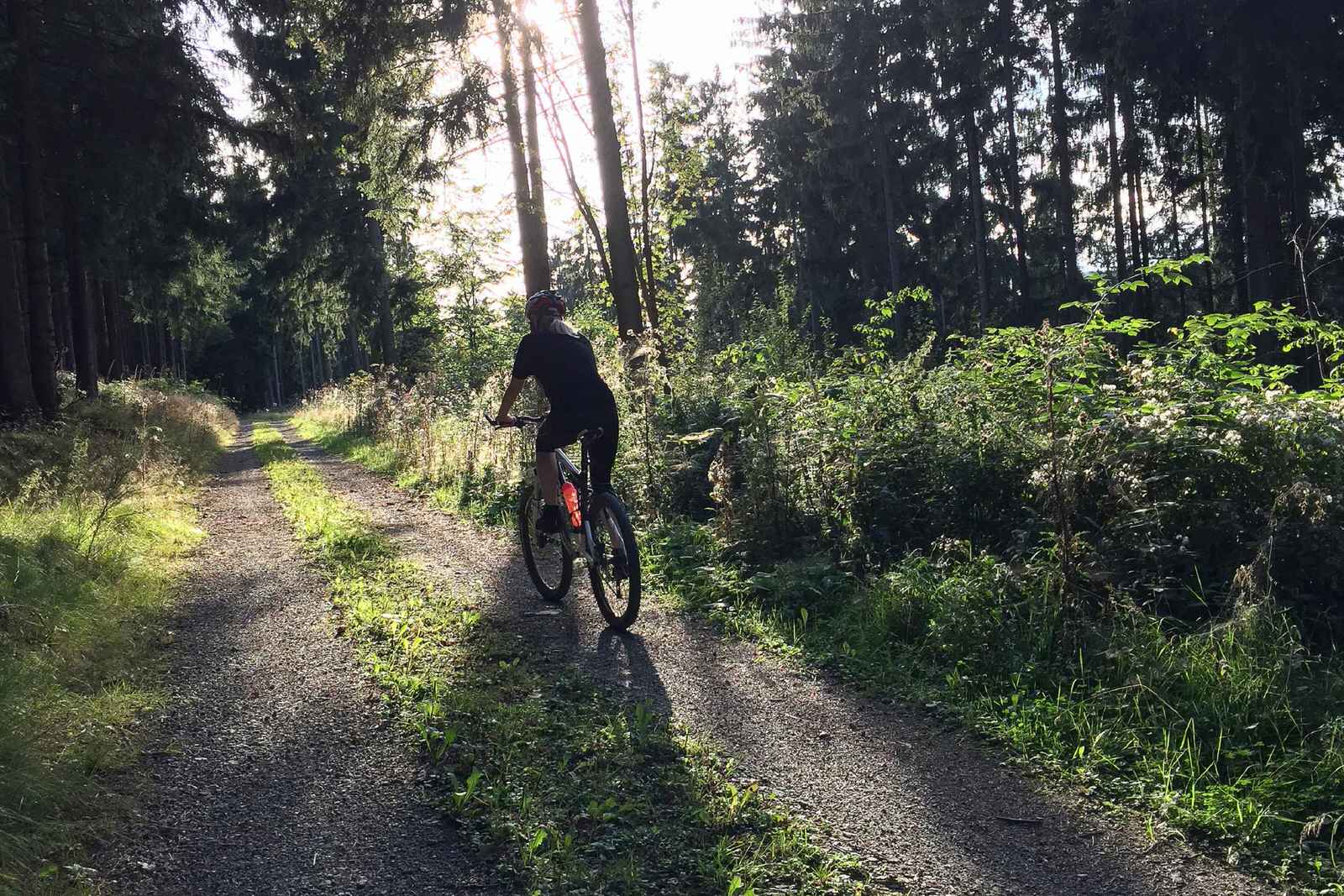 Mountain biking
Take advantage of the trails through the unique low mountain range landscape in the Sauerland. In recent years, the Bike-Arena Sauerland has created offers that allow every mountain biker to get their money's worth.
Specially prepared mountain bike maps show the best routes, all easy to find in the terrain according to a uniform, clear system with an indication of the difficulty level. And if you prefer narrow road tyres rather than studded tyres, you will also find great road bike tours on less frequented roads through the Sauerland.
Bike Park
Skilled on two wheels? Then don't miss out on these exceptional bike parks. For all ages and with different levels of difficulty.
Cycling tours
Pleasure cycling in the Sauerland at its best
You want to let the wind blow around your nose on two wheels? Without having to achieve top sporting performance, relaxed cycling through the Sauerland landscape is possible if you have the support of an e-bike. Many rental stations enable you to enjoy a wonderful day out, gaining wonderful impressions of the country and its people from the "saddle perspective".
Tourers will get their money's worth along the Lenneroute or the Ruhr-Sieg cycle path. The numerous themed routes in the region also invite you to go cycling. A sophisticated junction system ensures that you can easily find your way around and adapt the routes to your needs at any time.
Route tips
SauerlandRadring
Relax and cycle through the countryside along old railway lines. On the way, you can stop for a bite to eat and take in the sights of railway history, experience great impressions as you pass through the Bat Tunnel, and let your eyes wander over the lakes and mountains. Sounds good? Then discover the 84 km of the Sauerland-Radring for yourself.
Ruhr Valley Cycle Route
240 kilometres of cycling pleasure connect the Metropole Ruhr with the Sauerland. The cycle route starts at the source of the Ruhr at the Ruhrkopf near Winterberg and ends at the Rhine orange in Duisburg. Experiences and impressions like pearls on a string along the Ruhr.
Lenneroute
Nature and recreation, culture and lifestyle served up along 150 km of the Lenne Route. Along the river Lenne from its source at Kahler Asten to its mouth in the Ruhr near Hagen. Those who cycle it "learn" a lot of interesting facts about the history and development of the regional industrial culture, which has always been closely linked to the river itself.